What is Paint Correction?
Paint Correction is the process of removing swirl marks, scratches, surface defects, and water etching, also sometimes referred to as "buffing". Through the removal of the damaged paint material, a refined surface is revealed to show your paint's highest potential. Results vary, depending on the initial condition of the paint and the number of correction "steps" the paintwork receives. As the paint is worked through multiple stages, a virtually defect-free finish can be achieved- leaving a flawless finish often better than new! No matter if your desire is to remove a single unsightly scratch, or bring your entire vehicle to the next level, you can rely on us to deliver a result you're thrilled with. Paint correction is at the core of what we do. Our trained and certified detailers will provide second-to-none results. We also offer a shuttle service or full valet for all paint correction services.
Each paint correction undergoes a thorough "test-section" procedure, utilizing multiple polishes, pads, machines, and techniques in order to ensure optimal results for the entire paintwork of the car. We offer several different levels of service, ranging from a single stage to full correction. All paint correction services include a thorough Exterior Detail to provide a pristine, decontaminated surface prior to correction. If specified, each of our correction services can utilize a finish polish that features a special blend of nano-tech Quartz, along with high-gloss durable resins. This creates a base layer to which we can apply a highly durable silica sealant to protect the refined finish for 6 months or longer. We also offer additional hand-selected, world-class paint coating options (CQuartz UK, or System X) to add long-term, upgraded protection to the newly refinished paint. Paint coatings not only serve to provide marring resistance, but they also deliver superior ease of maintenance to your newly rejuvenated car!
Our engine bay rejuvenation service and/or basic interior detail can be added for just $89!
XKote doesn't completely replace the paint booth but it does improve the paint so significantly that it can be very difficult to replicate any other way.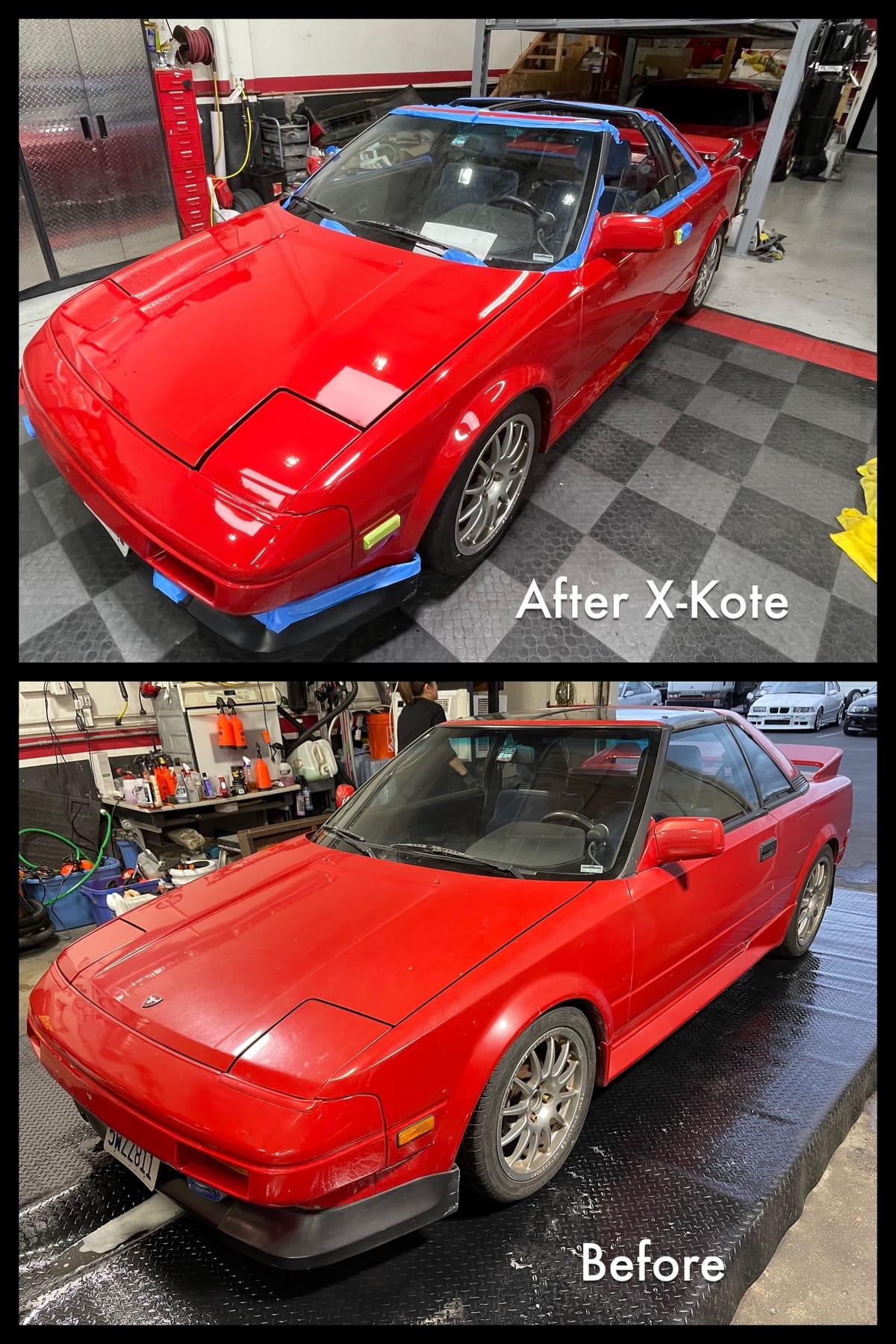 1 STEP PAINT CORRECTION
Starting at $399 total, for 2-Door Vehicles
Removes light swirling and marring while enhancing gloss significantly. Most suited to some brand new vehicles, and vehicles that have been very well cared for and otherwise is great condition. Excellent option for those with a budget, or that aren't looking for "perfect" results but want the maximum return for the investment.
2 STEP PAINT CORRECTION
Starting at $699 total, for 2-Door Vehicles
Removes deeper scratches and eliminates swirling in most cases. Most defects including sanding marks, staining, and water spots are significantly improved or removed. Some deeper scratches may remain. Recommended for most darker colored vehicles and in most circumstances provides a near-perfect finish.
XKOTE PAINT RENEWAL
Starting at $999 total, for 2-Door Vehicles
Creates a virtually flawless finish, even for some neglected finishes and poorly treated cars. Removes as many defects as possible. Each vehicle receives our undivided attention but some scratches may be too deep to safely remove! Preservation is the goal but this level of paint correction provides ultimate results and serves to meet your exact specifications. Recommended for older vehicles, show cars, or vehicles with severe defecting. Includes: Wet Sanding (if necessary) and Paint Chip Repair.
NOTE: Wet Sanding, if necessary or requested, is billed at $80/hr. Spot Correction is billed at $55/hr. Some defects may be too deep to safely remove. 'Starting at' prices reflect pricing for a coupe. Paint Correction pricing will reflect vehicle size.